The world's first self-propelled detachable bow, which was conceived by the Finnish Transport Infrastructure Agency (FTIA), was launched in Naantali on Wednesday 28 August 2019. After a test period, the detachable bow will be deployed in the Saimaa area next winter.
WINMOS II (Winter Navigation Motorways of the Sea II) is an EU CEF-funded project for the development of winter navigation. The project's objective is to develop and improve winter navigation and its safety and to secure sufficient icebreaking resources in the future.
One of WINMOS II's sub-projects focuses on the development and construction of a motorised detachable icebreaking bow to be used in the Saimaa area. The detachable bow equipped with propulsion machinery is mounted to the tugboat by three-point fixing. The detachable bow has two straight axle lines driven by electric motors. The dimensions of the vessel and bow combination were designed so as to enable effective icebreaking operation in the Saimaa area and the Saimaa Canal.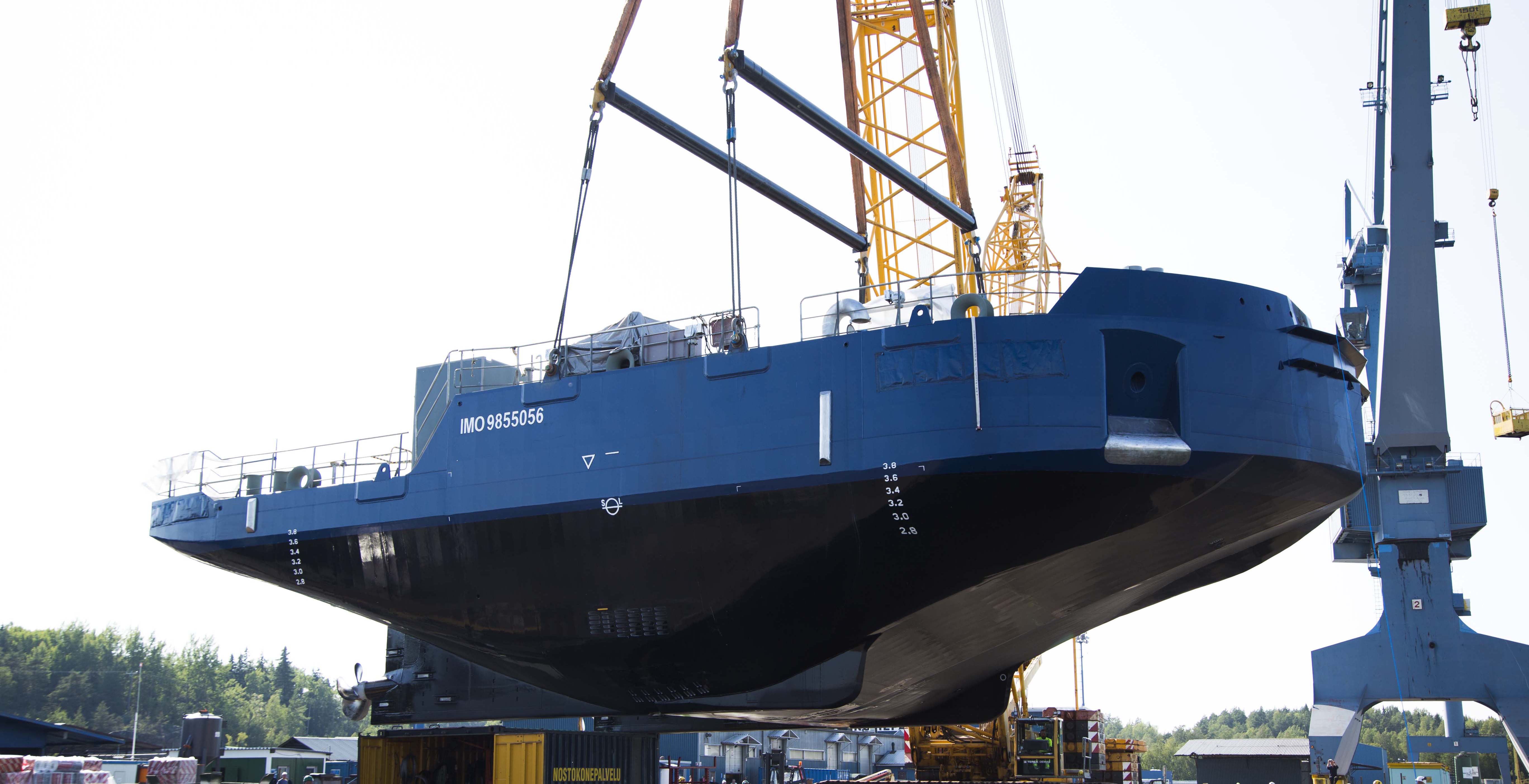 The detachable bow was launched at Turku Repair Yard Ltd in Naantali on Wednesday 28 August 2019. After launching the detachable bow, its outfitting is continued, and the required pusher tug modifications are implemented. The tug and the bow are then fitted together for sea trials. The vessel will be available for FTIA's tests in October, and it will be used for icebreaking operations in the coming winter.

The pusher tug Calypso, which is owned by Alfons Håkans AS, will be used for operating the detachable bow, and the tug will undergo modifications that enable the attachment of the bow.
Icebreaking service refers to assisting and towing vessels in icy conditions, safeguarding the safety of waterway transport and providing the related traffic control. FTIA is responsible for the public office duties and procurement associated with winter navigation as well as for the national coordination, development and control operations.
Watch the illustrative video about the detachable bow:
Further information:
Jukka Väisänen
Senior Officer, Winter Navigation
Tel. +358 29 534 3326
jukka.vaisanen@vayla.fi